Invoice Maker's goal is to provide the most customizable, user-friendly platform to ensure you get paid for the goods and services you provide. Our dashboard allows you to customize, save, send, and track your invoices, all in one place, to easily manage your business' accounting.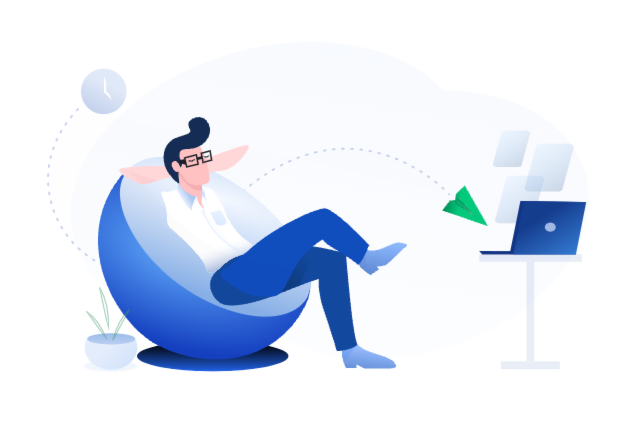 Upon accessing our Invoice Maker application, you will have access to utilize (1) FREE invoice.
If you register an account by entering your email address, you will automatically be enrolled into our FREE plan. The FREE plan will grant you access to process one (1) invoice per month.
There is no commitment or billing information required to become a member of our FREE plan.
If you'd like to gain access to additional invoices beyond the designated one (1) invoice per month, you will be prompted to enter billing information to upgrade your account. Upgrading your membership plan is optional.
If you elect to upgrade to one of our paid membership plans, you can cancel at any time, though you will still have access to the end of that billing period.
We have three separate membership-based plans, each of which is tailored based on your intended use.
FREE Plan
$0.00/month

One (1) invoice per month
Able to upgrade at any time
Manually renew each month
LITE Plan
$2.99/month -or- $29.99/year

Three (3) invoices per month
Able to upgrade at any time
Able to downgrade at end of the billing cycle
PLUS Plan (most popular)
$9.99/month -or- $99.99/year
Unlimited invoices per month
Able to downgrade at end of the billing cycle

Unlimited Saved

Invoices

Clients

Products

Services

Taxes

PDFs

Unlimited Access to

Credit Card Payments

Venmo Links

Cash App links

Subscribe via

Credit Card

iOS In-App Purchase

Android In-App Purchase

Customer service cannot see and support subscriptions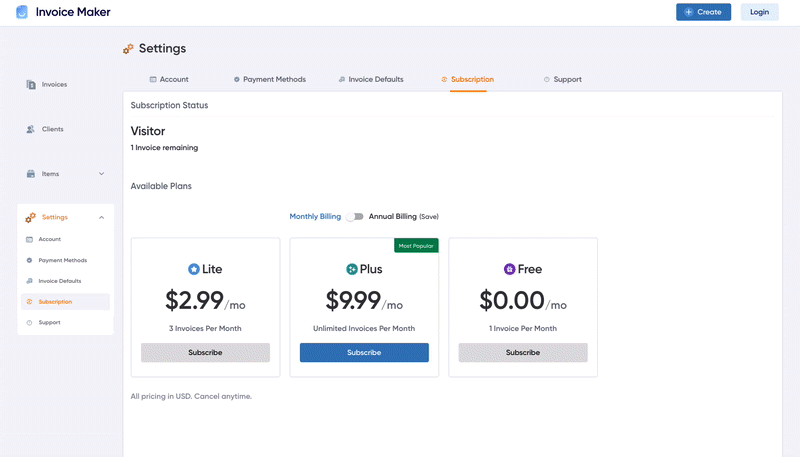 Membership cost varies based on the plan you select, and whether you choose to pay Monthly or Annually. For the Lite and Plus membership plans, your subscription will automatically renew each month (or year) unless you choose to cancel your membership. If enrolled in the FREE Plan, you will have to renew your free membership after the initial month's duration has expired.
Once you've canceled your subscription, you will have full access to your account until the end of the active billing cycle. Following the cancelation at period end, the subscription will not renew. The account will not be billed again, though you will still have access to all of your account information with limited functionality. For more information on how to cancel your subscription, click HERE.
As always, you have the ability to reactivate a membership plan if you ever need our services in the future.